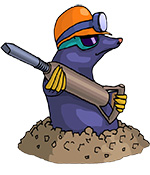 Trapping Removal Services
Mole Masters
Call Today! (503) 698-4606 or Contact Us Online
Mole Masters Inc.
PO Box 331
Clackamas, OR 97015
US
Office: (503) 698-4606
Email
We Accept:
Mole Masters traps moles & voles in the following areas:
Portland * Beaverton * Aloha * Hillsboro * Tigard * Sherwood * Tualatin * Wilsonville * West Linn * Lake Oswego * Oregon City * Canby * Beavercreek * Gladstone * Milwaukie * Clackamas * Happy Valley * Damascus * Boring * Sandy * Troutdale * Estacada * Fairview * Gresham
Trapping & Removal Services
Mole Masters Specializes in No-Poison, Trapping Services
We trap moles so that there are no poisons to harm pets, children or the environment. We cover our traps to protect them and for a tidy appearance.
Your property is monitored as necessary and we generally have the problem wrapped up in a couple weeks. We will, however, return for any new activity within the remainder of the warranty period.
Trapping & Removal Services Offered:
Expert MOLE / VOLE Trapping
Next/Same Day Service
Door knocker progress reports left at each visit
Guaranteed trapping success
Licensed & Insured
5 star Angie's list rated
Twice Winners of Angie's List Super Service Award
We at Mole Masters have over 20 years of combined experience trapping moles and voles with our specialized traps. We have a welding shop in Clackamas customize our traps for maximum effectiveness! Our goal is to quickly respond to your mole problem, and effectively protect your yard!
Please let us know about any toddlers, dogs/pets, gate codes, etc.
Customer Testimonials
---
Mole Masters Inc.
PO Box 331, Clackamas, OR 97015
Office: (503) 698-4606
Full-Service Mole & Vole Trapping
No-Poison Removal Services
Serving The Entire Portland Metro Area
Licensed - Bonded - Insured
**5 star Angie's list rated**
**Twice Winners of Angie's List Super Service Award**

Home | Trapping & Removal | Mole FAQ's | About Moles | Customer Testimonials | Contact