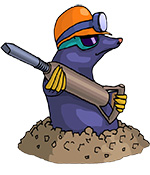 Mole Masters Inc.
PO Box 331
Clackamas, OR 97015
US
Office: (503) 698-4606
Email
We Accept:
Mole Masters traps moles & voles in the following areas:
Portland * Beaverton * Aloha * Hillsboro * Tigard * Sherwood * Tualatin * Wilsonville * West Linn * Lake Oswego * Oregon City * Canby * Beavercreek * Gladstone * Milwaukie * Clackamas * Happy Valley * Damascus * Boring * Sandy * Troutdale * Estacada * Fairview * Gresham
Frequently Asked Questions
FAQ's About Moles, Voles & The Damage They Can Cause
Q: Why did the mole choose my yard?
A: The same things that make someone's yard appealing to a person can attract moles. They love a nice watered yard that has plenty of worms for them to eat.
Q: Is the process used by Mole Masters safe?
A: At Mole Masters we don't use poisons. Instead we use a trap that is put into the ground and then safely covered by a small bucket to protect kids and animals.
Q: Why do I see more moles in the spring and summer?
A: In the late winter moles have a breeding cycle. This causes a surge of moles during the late spring and summer. In addition, the dry weather encourages moles to enter someone's yard.
Q: Will moles come back?
A: Our hope at Mole Masters is to keep moles away from your property as long as possible. During our service we will trap all moles on the property and any new moles that come in.
Q: How do I know if I have a mole?
A: Moles make mounds in a yard. Typically the ground will be pretty moist. In addition, moles tend to make veins (raised area of ground) through the yard and bark dust.
Q: What is the difference between a mole, vole, and gopher?
A: A vole is more like a mouse than a mole or gopher. They do live underground but their presence is marked by open holes in the ground. A Gopher will make mounds like a mole but they tend to have more rocks in the mounds and the mounds are flatter. A gopher usually lives in fields rather than someone's yard. They will also leave large open holes in the ground. A mole is the most common in a typical yard.
Q: How do I know that moles were really caught?
A: After we catch the mole or moles then the activity will disappear (you won't be seeing mounds or veins anymore).
Q: Do I have 100 moles on my property?
A: It may seem like there has to be an army of moles to do the amount of damage you are seeing on your property. Surprisingly, one or two moles can do immense amounts of damage.
Q: How big is a mole?
A: A mole's size ranges from just a couple of inches all the way to about seven inches.
Customer Testimonials
---
Mole Masters Inc.
PO Box 331, Clackamas, OR 97015
Office: (503) 698-4606
Full-Service Mole & Vole Trapping
No-Poison Removal Services
Serving The Entire Portland Metro Area
Licensed - Bonded - Insured
**5 star Angie's list rated**
**Twice Winners of Angie's List Super Service Award**

Home | Trapping & Removal | Mole FAQ's | About Moles | Customer Testimonials | Contact