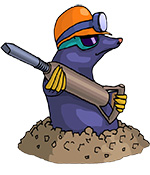 Mole Masters Inc.
PO Box 331
Clackamas, OR 97015
US
Office: (503) 698-4606
Email
We Accept:
Mole Masters traps moles & voles in the following areas:
Portland * Beaverton * Aloha * Hillsboro * Tigard * Sherwood * Tualatin * Wilsonville * West Linn * Lake Oswego * Oregon City * Canby * Beavercreek * Gladstone * Milwaukie * Clackamas * Happy Valley * Damascus * Boring * Sandy * Troutdale * Estacada * Fairview * Gresham
Testimonials
At Mole Masters we love to hear what our customers are thinking
"I loved the fact they came once a week and did a great job.  They arrived on time, filled all the holes that were left and you couldn't even tell they were there.  I would tell friends and family they have a good service."
-Vicki H. from West Linn
"Mike truly is the Mole Master.  He responded to my inquiry within a few hours and set traps the same day. Less than a week later 2 moles were caught.  Mike was very professional prompt… Moles are gone, and I didn't have to agonize over it.  If they come back, I know who to call."
-Cameron K. from Sandy
"I called Mole Masters and they came over that afternoon.  He set 4 traps and came back a few days later. Two moles caught!!!  No more mole activity now, we are very pleased."
-Larry J. from Clackamas
"I called for assistance and they were out and set three traps the same day.  They came back weekly and caught one mole and since there was no new activity. I really like the service, so if the moles return I will call them back out."
-Glenn C. from SW Portland
"They promptly came out and set multiple traps in all areas of our property. After about 4 weeks of service, the moles appear to be gone with no mole hills in sight. They caught 4 moles in all. I wish I would have contacted them earlier."
-Richard H. from NW Portland
Customer Testimonials
---
Mole Masters Inc.
PO Box 331, Clackamas, OR 97015
Office: (503) 698-4606
Full-Service Mole & Vole Trapping
No-Poison Removal Services
Serving The Entire Portland Metro Area
Licensed - Bonded - Insured
**5 star Angie's list rated**
**Twice Winners of Angie's List Super Service Award**

Home | Trapping & Removal | Mole FAQ's | About Moles | Customer Testimonials | Contact