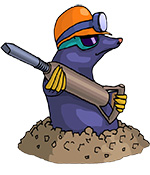 Mole Masters Inc.
PO Box 331
Clackamas, OR 97015
US
Office: (503) 698-4606
Email
We Accept:
Mole Masters traps moles & voles in the following areas:
Portland * Beaverton * Aloha * Hillsboro * Tigard * Sherwood * Tualatin * Wilsonville * West Linn * Lake Oswego * Oregon City * Canby * Beavercreek * Gladstone * Milwaukie * Clackamas * Happy Valley * Damascus * Boring * Sandy * Troutdale * Estacada * Fairview * Gresham
Getting To Know the Mole
At Mole Masters our goal is to keep our customers happy by removing the damaging creatures from their properties.
The most common mole in Oregon in the Townsend's mole. Moles thrive in the common yard because it is full of the worms and bugs that they love to eat. When the ground is getting dry elsewhere, a nice watered yard is the perfect environment for a mole.
The mole has two broad and spade-shaped claws that are perfect for moving dirt, and it uses these to dig a series of tunnels. When it is digging its tunnels a mole is potentially killing someone's yard, flowers, and bushes by uplifting the dirt around them.
The mole is mainly a solitary animal except during mating season in late winter. The female mole has a litter of two to four young in a deep underground burrow, hence the reason there is a sudden surge of moles in the spring and summer.
Moles have large territories (one mole can cause severe damage in a yard all by its self). We use specialized traps and years of experience to solve one's mole problem as quickly as possible!
Customer Testimonials
---
Mole Masters Inc.
PO Box 331, Clackamas, OR 97015
Office: (503) 698-4606
Full-Service Mole & Vole Trapping
No-Poison Removal Services
Serving The Entire Portland Metro Area
Licensed - Bonded - Insured
**5 star Angie's list rated**
**Twice Winners of Angie's List Super Service Award**

Home | Trapping & Removal | Mole FAQ's | About Moles | Customer Testimonials | Contact